Best Custom ADU's In San Diego
ADUs are among the most popular housing options in San Diego today.
They make up more than 25 percent of new housing construction in the city. If you're thinking about adding an ADU to your property, this is what to know about the process. We have 5 models offering an array of options to choose from to help you create the customized ADU of your dreams.
Custom ADU Options In
San Diego
ADU designs can vary widely in size, floorplan, amenities, and bedrooms. When you're planning a project, you can choose from these three main categories based on how the project is constructed:
Detached Models

Detached models are not attached to an existing property. Instead, they are separate buildings. These ADUs are most commonly placed in the backyard.
These models allow a great deal of freedom with your design. You don't need to work with any existing structures, which makes it much more manageable.
You can build an entirely new structure on your property. But you can also convert buildings that you already have. It's common for people to convert large storage sheds or garages into detached units.
Attached Models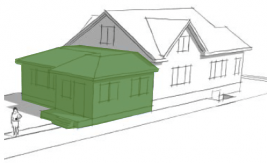 These ADUs connect to the existing residence on the property. These models function as a home add-on, but they have their entrance and are isolated from the other property.
The units are limited in size based on the original property. You cannot attach an ADU that has more than half of the floor space of your actual residence.
The attached units are the most common choice for in-law apartments.
Converted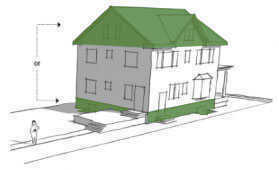 Converted models turn part of the original residence into an ADU. For example, you might convert a basement into an independent living space.
These options tend to be the most inexpensive, but they are the least isolated.
Frequently Asked Questions
What are my design options for a custom granny flat in San Diego?
Custom granny flats are built to your unique specifications. Rather than relying on an existing floor plan, they are designed and constructed specifically for you.
A custom flat can be tailored to fit whatever your needs are. They are most commonly used for:
Attaching an ADU to an existing living space

Converting a current ADU into a new floor plan

Building on complicated terrain

Creating unique housing units that meet niche interests
Why build a custom ADU in San Diego?
ADUs are built for a variety of reasons. Some of the most common ones include:
Increasing the value of your property

Building a home for loved ones

Renting for increased income

Having flexible housing or a guest house
These units have become significantly more common in San Diego over the past several years. There has been a shift toward ADUs since 2017 legislation that made it possible for homeowners to expand their property's housing options.
San Diego also has benefits for residents to encourage ADU construction. For example, there are no longer thousands of dollars in fees for permits and development.
Are you still thinking about San Diego custom ADU construction options?
The best way to find out about your custom options is by talking to a specialist that works with a contractor than can help create your dream customized ADU. You can schedule a consultation to discuss your goals and existing property.
An ADU specialist will give you ideas about where and how a custom unit might be constructed. They can also evaluate your property in-person to create a more in-depth plan.
What is a custom ADU or custom granny flat?
ADU stands for Accessory Dwelling Unit. It is the technical term for an additional living space added to an existing property. "Granny flat" is the more colloquial term used because people often have their parents or in-laws live in the ADU.
These living spaces function as a home with a kitchen, bathroom, living area, and bedroom. Some might have multiple bedrooms or multiple living spaces.
A custom design is built for one specific property. Instead of being a pre-fabricated plan, it is created after the designer evaluates the property. It allows the ADU to be integrated into the existing property and meet any unique specifications that the property owners have.
What are the benefits of custom ADUs in San Diego over pre-fab?
Pre-fab designs are mass-produced plans that can fit a variety of different properties. But there are some significant benefits to having a custom plan implemented instead, including:
Designs can include whatever floor plan, room size, finishings, and other unique features that you want.

ADU specialists handle the city permit process for you.

Custom projects take all of the costs into account upfront, so you don't run into unexpected fees.

Plans can be tailored for small properties and limited space in the backyard.

Custom units are more likely to attract tenants than pre-fab ones.

Getting financial approval for a loan on a custom unit is sometimes more accessible than a pre-fab one.